The Commission on Race and Ethnic Disparities
The Commission on Race and Ethnic Disparities was established in 2020 to review inequality in the UK, focusing on education, employment, health, and crime and policing.
The Commission looked at outcomes for the whole population and published its 258-page report to the Prime Minister in March 2021. Led by evidence, the Commission put forward 24 recommendations to improve the lives and experiences of people and communities across the UK.
The Commission report was a significant milestone in the UK's journey to equality of opportunity for all. The findings and evidence in the report presented a new and updated portrayal of race relations in the UK by delving beneath the surface of the various disparities that persist across our society and explaining how they have evolved over time.
The Commission also provided the government with a coherent philosophy of approaching questions of racial equality in the UK given our rich and complex history and changes in ethnic diversity, society and technology that are reshaping our economy and our lives.
The report delivered a compelling message to everyone: as a country we have made huge progress, but we can go further.
Recommendations
The Commission used its extensive stakeholder engagement and examination of evidence to identify 4 themes which would effectively address negative disparities and inequality for all those affected. The recommendations in their final report were grouped by these 4 themes.
Theme 01
Build trust
Recommendations to help build trust and understanding for people and communities in public services and institutions.
Theme 02
Promote fairness
Recommendations to contribute to fairer practices and improved outcomes for people and communities.
Theme 03
Create agency
Recommendations to create opportunities to empower people to exercise greater control over their lives and make informed choices that lead to better outcomes.
Theme 04
Achieve inclusivity
Recommendations to promote genuine, positive integration between citizens and communities, and weave in the identity and cultures of all communities into everyday life in the UK.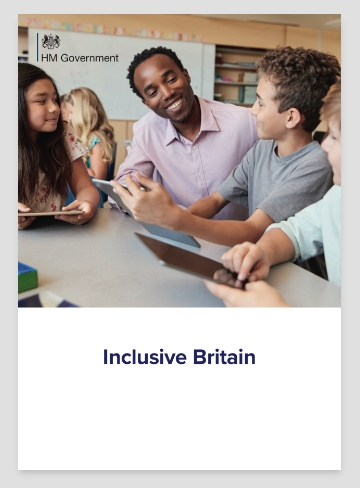 The government's response to the Commission's findings, 'Inclusive Britain', sets out a groundbreaking action plan to tackle negative disparities, promote unity and build a fairer Britain for all.
It is guided by well established evidence, informed by the findings of the independent Commission on Race and Ethnic Disparities, and built on three overarching aims: Trust and fairness, opportunity and agency, and inclusion.
It sets out what the government intends to do to give everybody, from every community, in every corner of the UK, the opportunity to succeed.
The government is grateful to each of the Commissioners for their dedication and for giving up their time without remuneration to examine forensically an issue that matters deeply to people in the UK.
Read on GOV.UK